YOU OUGHTA KNOW!
EQUAL EMPLOYMENT OPPORTUNITY DATA GATHERING
Block 15 has grown large enough to now be required to submit information to the Equal Employment Opportunity Commission. Due to this, we will need to gather some information that we have not collected in the past. Please take a quick minute and fill out this form. It will only take about 30 seconds to complete, but we need to have the data on file by Friday, June 21st.
If you have any questions, please direct those to Chris at Chris@block15.com.
PUB PREP KITCHEN/EMPLOYEE AREA REMODEL
As most of you probably know, the Pub will be remodeling the downstairs prep kitchen/employee area starting on Sunday, June 16th. The remodel will take a few weeks, and in that time quite a few things are going to be in different places. In general, company-wide everyone should know that the Game Room will be closed (it will be the actual prep kitchen space during the remodel), and the Brew Bar area will be used as the employee area. The Office will still be in use and accessible, as will the downstairs bathrooms.
Most of you will be getting the information that is pertinent to you specifically from your manager, but if you have any questions please ask said manager (or another manager for that matter).
This is going to be quite the undertaking, so please be patient as it happens. If you have any questions or concerns, again, please connect with your direct manager or Chris H.
EMPLOYEE RETAIL PURCHASING
Going forward, to make our ordering of apparel as accurate as possible, we are implementing a new policy. When new apparel is in the pipeline, a link in the newsletter will be available for at least two weeks that will allow for employees to pre-order apparel. There will also be a mock-up of the design so that everyone can have a good idea of what it will look like. If you fill out the pre-order form, you can get the apparel. If you do not fill out the pre-order form, unfortunately you will not be able to purchase the apparel when it arrives in house. The only exception to this policy will be new employees who did not have access to the pre-order form upon hire. We understand that this new policy will take some adjustment but it is our best move going forward for ordering specialty apparel as it allows us to avoid having too much left over or not enough to sell to the public!
If you have any questions, please let Beth know. And again, we'll make sure to reiterate this policy and make it very clear when the time does come to pre-order! Thanks team!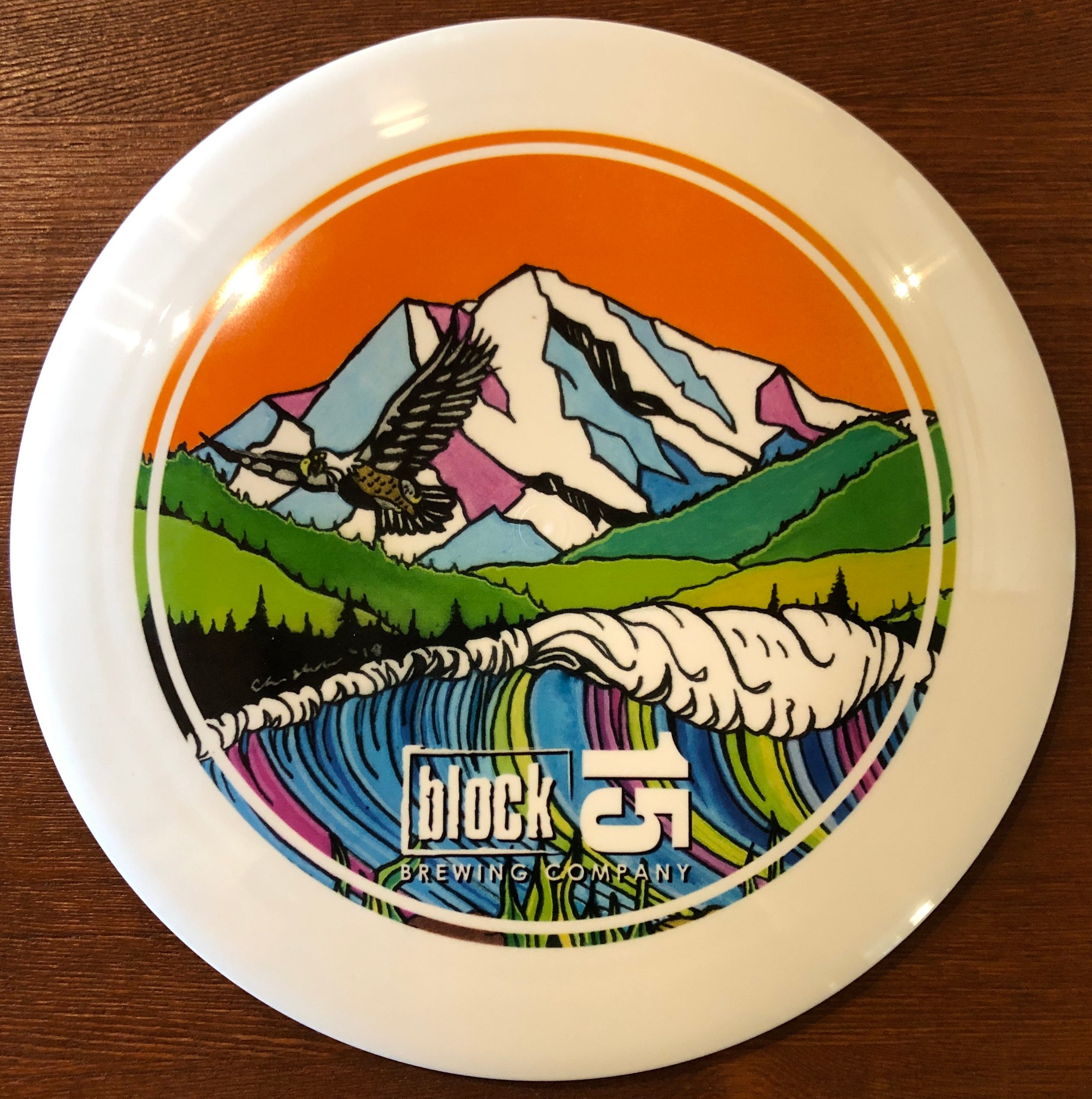 We have some sweet-a$$ Fresh Flow discs available for purchase at both locations currently! They are $20 a piece (no employee discount on these bad boys). Grab one today and get your disc golf on!
EMPLOYEE & MUG CLUB PACKAGED BEER PRE-ORDERS
For many of our monthly packaged beer releases we have been able to produce enough cans & bottles to accommodate all employees and Mug Club members no problem. Due to having a large enough supply, we are no longer requiring employees or Mug Club members to pre-order their allotments that get picked up on the Friday before the release. When releasing Brunch beers or limited specialty releases we will require pre-orders to ensure all members and employees are able to get their allotments.
Direct any questions to Goody!
STAFF ANNOUNCEMENTS
NEW STAFF MEMBERS!
Welcome to our two newest staff members at the Pub! Ashley Plagmann joins us as a Host/Food Runner, and Stephen Kaczmarowksi joins us as a Server!
CAVES HAPPENINGS
NEW APPETIZERS
Two new appetizers will crop up on next week's menu. Nopales tamales are filled with Nopales cactus, and the masa includes pickled jalapeno, cotija and cilantro.
Blistered beans are blanched then pan fried with salt, crushed pepper, garlic, and bourbon and served with harissa sauce.
UPCOMING EVENTS
Monthly Tasting Series with Willamette Valley Vineyards // Wednesday, June 1th // 5pm-7pm
For our Monthly Tasting Series we are happy to welcome Willamette Valley Vineyards to Caves Bier and Kitchen. We will be featuring a collection of wines to enjoy with suggested pairings from our dinner menu.
WHAT'S GOING ON TAP SOON?
Dates are subject to change based on tap availability.
TAP ROOM
Fri 6/14: Summer Knights Kölsch (replacing Mexican Lager) / Illuminated (replacing 2001: A Hop Odyssey)

Tues 6/18: ----

Fri 6/21: Red, White, & BOOM! (replacing The DAB Lab, Orange Velvet)
PUB
Fri 6/14: Summer Knights Kölsch (replacing Mexican Lager)

Tues 6/18: ----

Fri 6/21: Red, White, & BOOM! (replacing The DAB Lab, Orange Velvet)
UPCOMING BOTTLE / CAN RELEASES
Fri 6/21 - Red, White, & BOOM! (16oz cans)

*Stay tuned for additional details regarding exact details about this release.

Sat 7/6 - Summer Shortcake / Wandelpad / Summer Amusement (all in 500mL bottles)
UPCOMING / IN PROCESS BEERS
Punch it Chewie! - IPA

Wandelpad - Belgian-style Blonde Ale

Summer Amusement - Saison blended with Oak Aged Spontaneous Ale

Summer Shortcake - Sour Blonde Ale with Berries & Vanilla
EVENTS
BLOCKOUT = tap takeover
**Be sure to share/like the Facebook events to spread the word to your friends!
THE PEOPLE'S PINT / DINE OUTS
We are currently partnering with Sick Town Derby Dames for The People's Pint tap. The designated beer is Mexican Lager at the Pub and Spring Amusement at the Tap Room.
NEXT PUB DINE OUT
Check back in July!
NEXT TAP ROOM DINE OUT
Tuesday, June 18th
da Vinci Days
JUNE MONTHLY SPECIALS
Brewer's Board

Oregon Strawberry Bruschetta

T.L.C

Mediterranean Salad
The descriptions, prices and photos can be found here, and the procedures can be found here!
BREWER'S PROVISION
Thurs 6/13
Aaron's Smoked & Deep Fried Chicken Wings with twice-baked potatoes
SUMMER COCKTAILS
These will launch next Tuesday, June 18th!
The seasonal lemonade flavor will be changing to apricot, and the strawberry-rhubarb soda will change to marionberry-lime.
Back Porch Lemonade / Citrus vodka, cranberry & lemon juice, bitters and homemade ginger simple syrup topped with soda water.

Apricot Rosemary Fizz / 44 North Nectarine vodka, apricot nectar, rosemary tincture, and fresh squeezed lemon juice topped with soda.

Basil-Peach Blossom / Citrus vodka, muddled with homegrown basil, lemon, honey and peach bitters all topped with Happy Mountain Peach Blossom kombucha.

Passion Fruit Margarita / Hornitos Anejo tequila, St. Germain elderflower liqueur, passion fruit, fresh squeezed lime juice and simple syrup. Want to spice it up? Ask for our house habanero tincture!

Mojito / 4 Spirits Silver Rum, locally grown mint, lime, and soda.